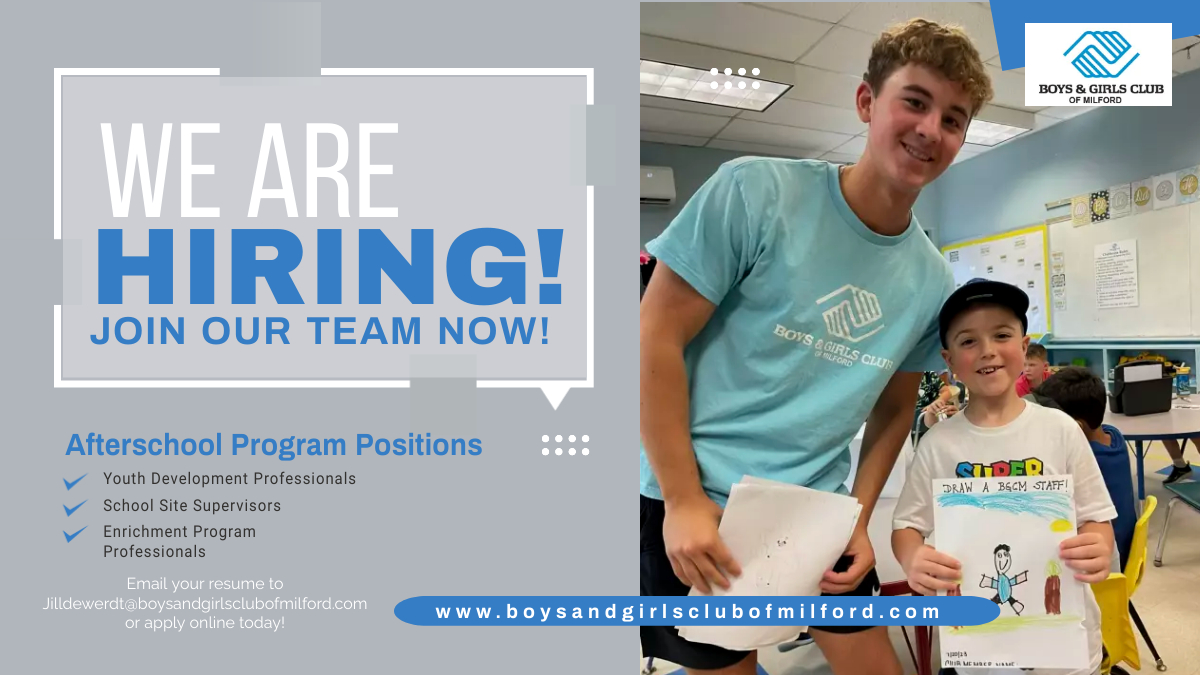 Get Involved Today!
Join Us Today: Make a Difference at the Boys and Girls Club of Milford
Are you looking for a meaningful way to give back to your community while also exploring exciting career opportunities? The Boys and Girls Club is the perfect place for you! We invite you to get involved today and discover the many ways you can contribute to the growth and development of the youth in our community, all while advancing your own career.
Volunteer Opportunities
Mentorship Programs: Be a positive role model and mentor to our young members. Share your skills, experiences, and knowledge to help them build a brighter future.
Homework Help: Assist kids with their schoolwork and provide academic support. Help them succeed in their studies and boost their confidence.
Recreational Activities: Get active and engage with our youth in various sports and recreational activities. Foster a love for physical fitness and teamwork.
Arts and Crafts: Unleash your creativity by leading art and craft projects. Encourage self-expression and imagination through artistic endeavors.
Special Events: Volunteer at our special events, from fundraisers to holiday celebrations. Contribute to the fun and excitement of these memorable occasions.
Contact Bryanna Miller at marketing@boysandgirlsclubofmilford.com for more information!
Career Opportunities
School Site Program Coordinators: Lead and manage various club programs. Create a positive and engaging environment for our members while developing valuable leadership skills.
Youth Development Specialists: Work closely with club members to help them achieve their full potential. Assist with academic support, mentorship, and personal development.
Administrative Roles: Join our behind-the-scenes team in roles such as administration, marketing, and fundraising. Help ensure the club runs smoothly and efficiently.
Why Choose the Boys and Girls Club?
Community Impact: Join a dedicated team of individuals committed to making a positive difference in the lives of young people in our community.
Career Growth: Explore a range of career opportunities and development paths within our organization. We value talent and offer pathways for advancement.
Skill Enhancement: Gain valuable experience in areas such as mentoring, program development, leadership, and administration.
Fulfillment: Experience the immense satisfaction that comes from helping children and teens reach their full potential. 
Network Building: Connect with like-minded individuals who share your passion for youth development and community engagement.
Ready to get involved or explore career opportunities at the Boys and Girls Club? We encourage you to take the first step in making a lasting impact on our community. Together, we can create a brighter future for our youth while fostering personal and professional growth.
For more information or to express your interest, please contact us at Jill DeWerdt at jilldewerdt@boysandgirlsclubofmilford.com. Join us today and become a part of something truly meaningful. Your journey with the Boys and Girls Club of Milford begins here!